---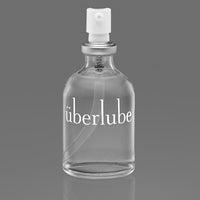 Uberlube Luxury Lubricant 50ml

Austin Love Doctor
überlube makes sex better for everyone by reducing friction, not sensation.
Why people love it:
Long-lasting performance that lets skin feel skin
Simple, body- and condom-friendly ingredients
Dissipates when no longer needed—no sticky residue
Recommended by leading doctors
Scent- and color-free
Developed & produced in our Chicago-based lab
This lubricant is not only slippery but it has been designed to transfer sensation while reducing friction. It is not sticky or tacky and a little goes a long way. When finished, it leaves the skin soft and moisturized.
Other uses for Uberlube: Long-distance athletes use Uberlube for chafing and blisters when running, swimming, or biking. Sold in hair salons to remove frizz. It also protects hair from harsh environments like chlorine in pools. Finally, it makes the color on old tattoos more vibrant. 
überlube is silicone-based, and silicone allergies are rare. überlube also has no added ingredients like scents, flavors, or spermicides, which are often the types of ingredients that often cause irritation and reactions.
Lube for all of your personal needs
Glycerin free and paraben-free
Latex safe
Non-staining, unflavored and unscented