---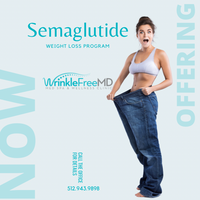 SEMAGLUTIDE WEIGHT LOSS PROGRAM (PLUS COMPLIMENTARY 12-WEEK LIPO-B INJECTIONS)

WrinkleFree MD Med Spa & Wellness Clinic
INTRODUCING *SEMAGLUTIDE* Weight Loss Program!!
Membership will include: first initial consultation and in-office visits, bloodwork, prescription of semaglutide along with supplies. To start membership you must purchase the first 3 months. After the first 3 month period you have the option to purchase monthly or 3 months at a time.
1-3 months:

$1800 (initial consultation and first 3 mo buy in)

Months 4-6 and beyond:

$1500/$600 per month (options for monthly or per month)
Plus, complimentary 12-week Lipo-B12 Fat burning shots (3 months)
PLEASE CALL THE OFFICE TO BOOK YOUR FIRST CONSULTATION TO SEE IF YOU ARE A CANDIDATE. (512)943-9898
 SEMAGLUTIDE is a new weight loss drug that has come on the market recently. It can help people lose weight when other strategies haven't worked. Some people are calling semaglutide a "game changer" when it comes to weight loss.

What is Semaglutide?
Semaglutide is a prescription medication that is used to treat obesity. The Food and Drug Administration (FDA) approved semaglutide (brand name Wegovy) for use in obesity management in 2021. However, semaglutide was already being used with FDA approval as a drug to treat type 2 diabetes for several years.

Semaglutide is a peptide that mimics the hormone glucagon-like peptide (GLP-1) that the human body produces naturally in the small intestine. Evidence from trials suggests that semaglutide can help people to lose weight by suppressing appetite. That's because this specific peptide targets areas of the brain that regulate food intake and appetite, it also helps improve the metabolism of sugar.